The 2023-2024 school calendar has been approved and is now availiable to download/print from our website. #theHerd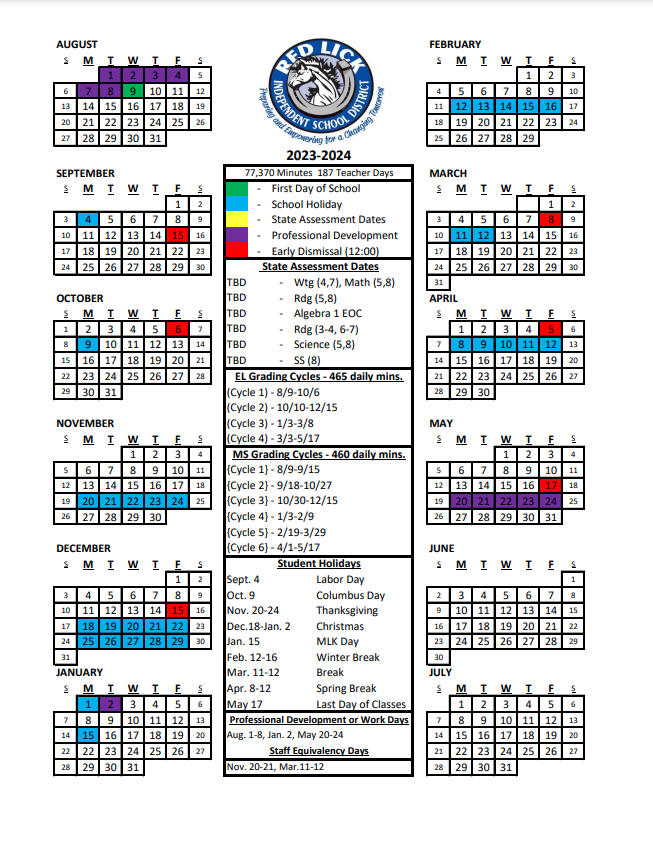 Girls track meet results from New Boston last night. Great job girls!

Congratulations to all of these athletes. Our district track meet will be next Monday, 4/3 at DeKalb. This will be the last track meet for the 2023 season. If you have the opportunity, come out and show your support for these student-athletes. Go Mustangs!!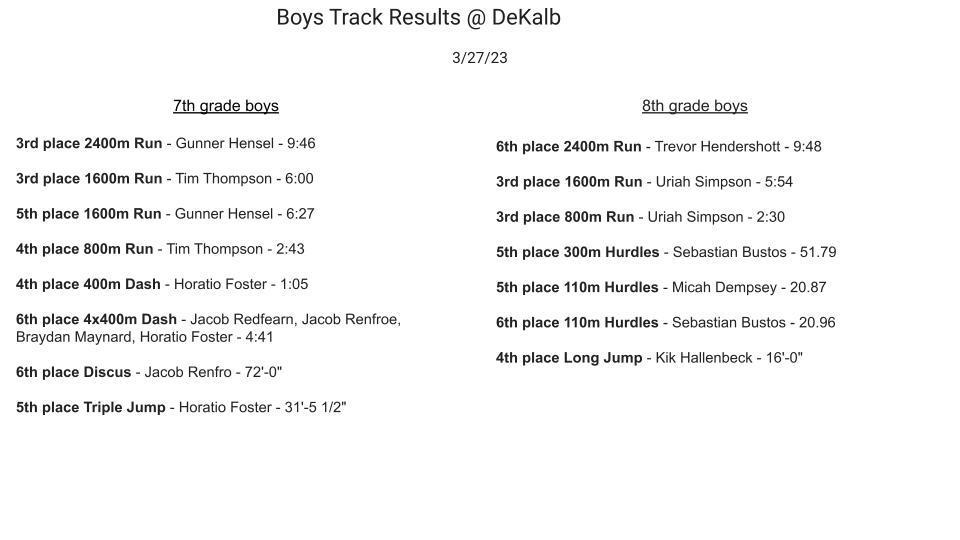 The last day to order a yearbook is April 7th. Don't miss your chance to collect memories. #theHerd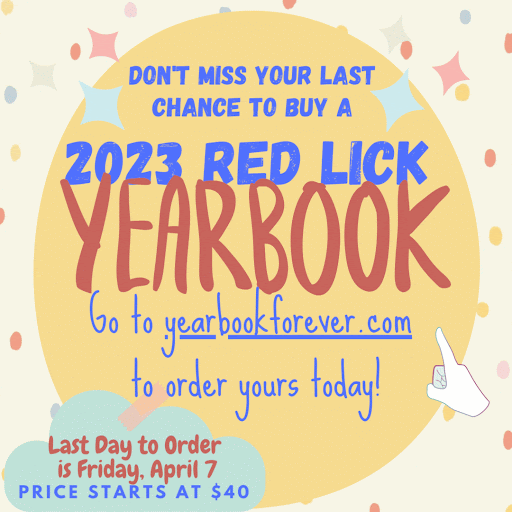 Parents and students, here's your chance to preview the midde school for your 4th grade student moving from elementary next year.

There will be a mandatory cheerleader and parent meeting on March 23 at 6pm for incoming 5th-8th grades for interested students for next year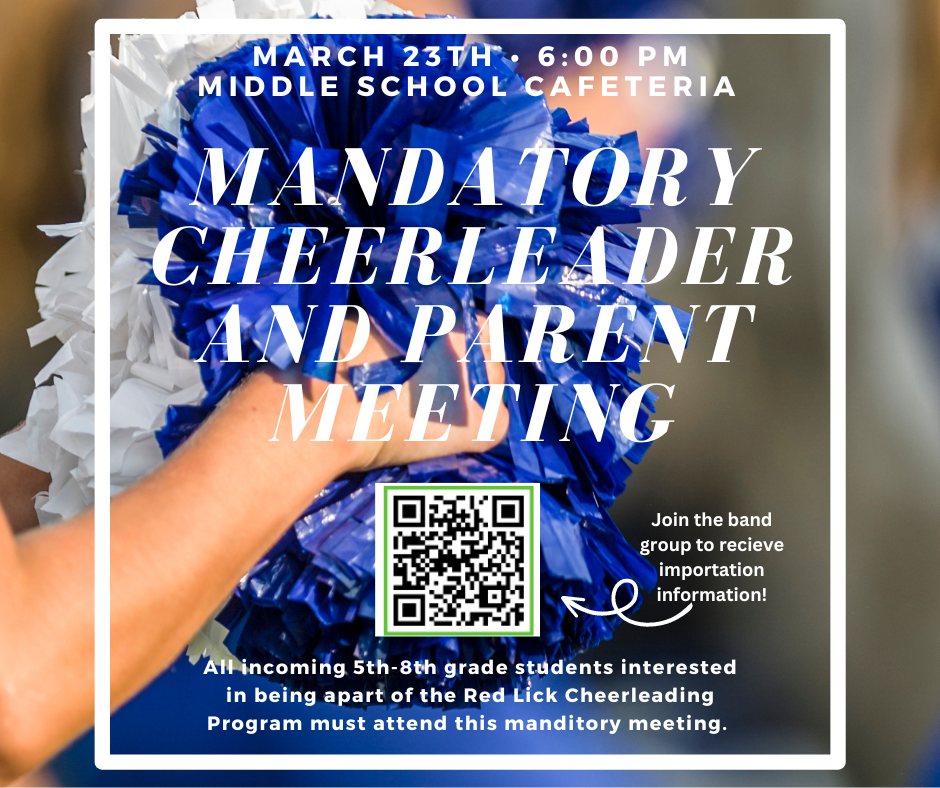 Our Mustang boys competed in Queen City last night. Here are the results.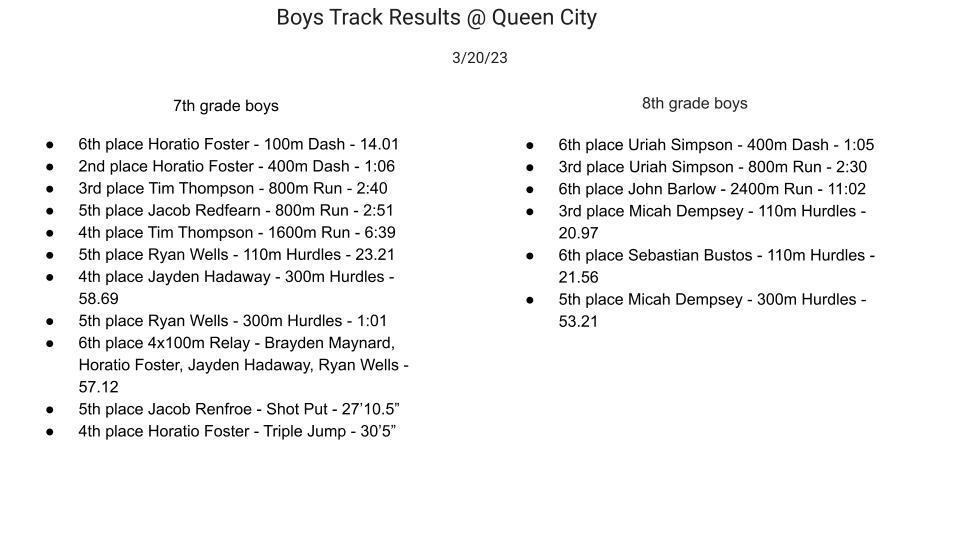 The Lady Mustangs traveled to Dekalb yesterday and had a good day on the track. #theHerd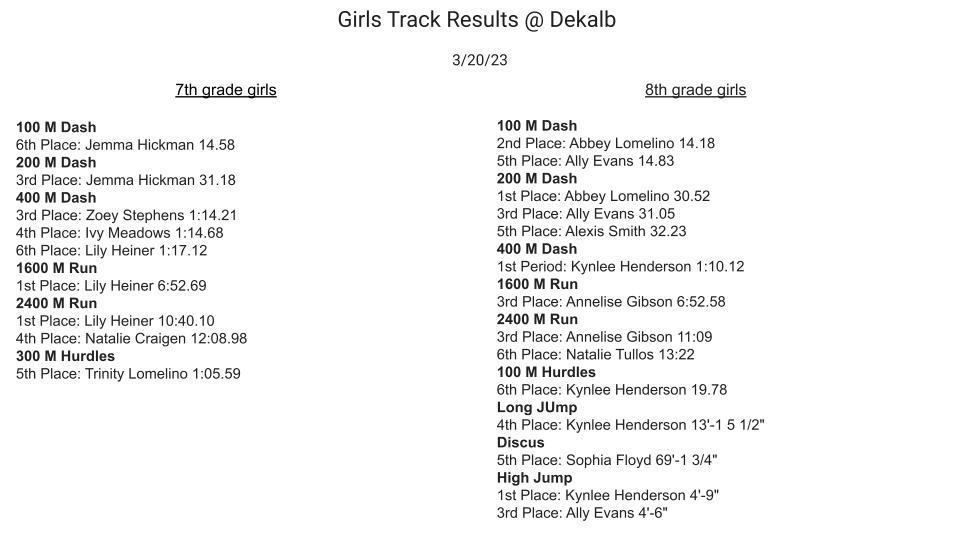 Dear Red Lick Parent/Guardian: Our 5th and 7th grade females, and 8th grade males will have spinal screenings on Thursday, March 23rd and Friday, March 24th. Please mark your calendars, so your student has appropriate attire on screening day. The nurse will assess your child for spinal abnormalities. Catching a spinal problem early can make the treatment much easier. Not treating spinal problems can lead to serious health problems. The screening is simple. The nurse will assess your child's back while he or she stands upright and bends forward. Important Recommendations: Students should bring shorts to school for the exam. Girls may wear a thin snug fitting tank top, sports bra, or a swimsuit top underneath their shirt on exam day. The shirt should be removed for best screening assessment. Boys may wear a snug fitting tank top. Students will be screened separately, one at a time. The school nurse will notify you if the results are abnormal. If you do not wish to have your student screened, the following must be provided to the school nurse prior to the screening dates: A signed note from your student's health care provider stating they are under active care for spinal issue/assessment, OR a signed statement stating the spinal screening conflicts with the views and practices of their religion. Thank you for your cooperation. Teresa Wright RN 903-838-8230 ext. 203 fax 903-831-6134
twright@redlickisd.com

We are looking forward to the Red Lick ISD blood drive on 03/27/2023, 01:00 PM to 05:30 PM. Meeting the goal of 11 donations is vital as hospitals are counting on it. You may schedule blood drive appointments here:
https://donor.lifeshare.org/donor/schedules/drive_schedule/252467
and forward this link to others to schedule their own appointments. Would you please convey this information to all possible donors? The community blood supply would not be possible without volunteer blood drive organizers like you. Thank you for taking on this cause to help so many others!

We can't wait to see you tonight at Open House. Elementary is from 5:30-6:30 and Middle School will be from 6:30-7:30. #theHerd

The Red Lick District of Innovation Committee will meet on March 16, 2023, at 4:00 PM, in the Red Lick Middle School Cafeteria to update its distict and campus comprehensive needs assessments and district and campus improvement plans according to state accountability results and the Texas Academic Performance Report. The public is invited to attend.

"The girls went to Hooks last night and competed well. So proud of their hard work."- Coach Lange

Last night, the 7th and 8th grade boys traveled to Paul Pewitt and competed in their first track meet of the 2023 season. The results for both 7th and 8th grade divisions are listed below: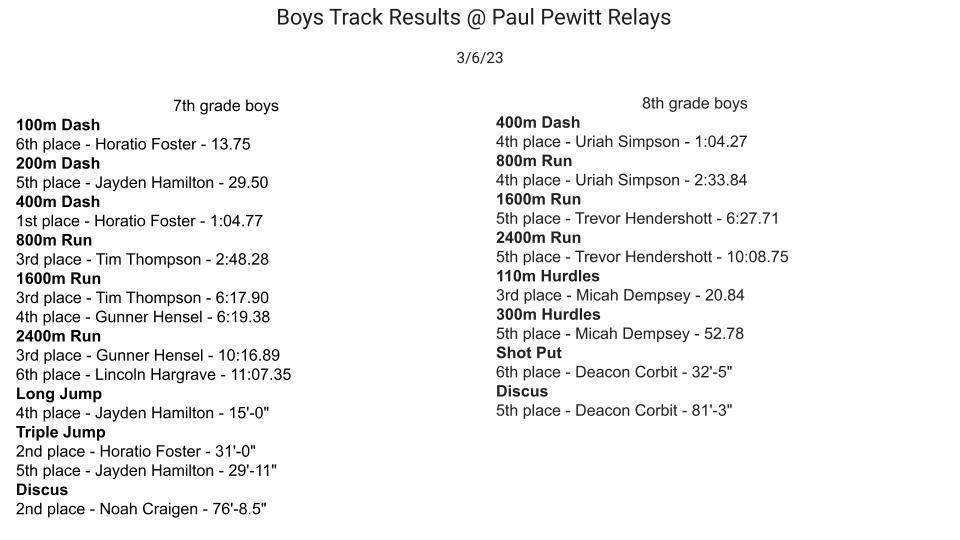 The elementary book fair will be her before you know it. Contact Mrs. Rampy for any questions. #theHerd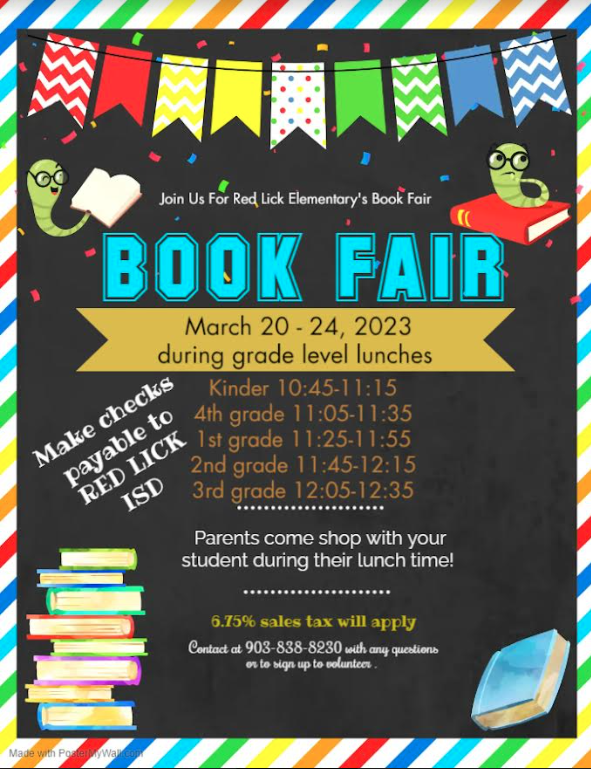 Black Light Pep Rally, next Friday!!!! #theHerd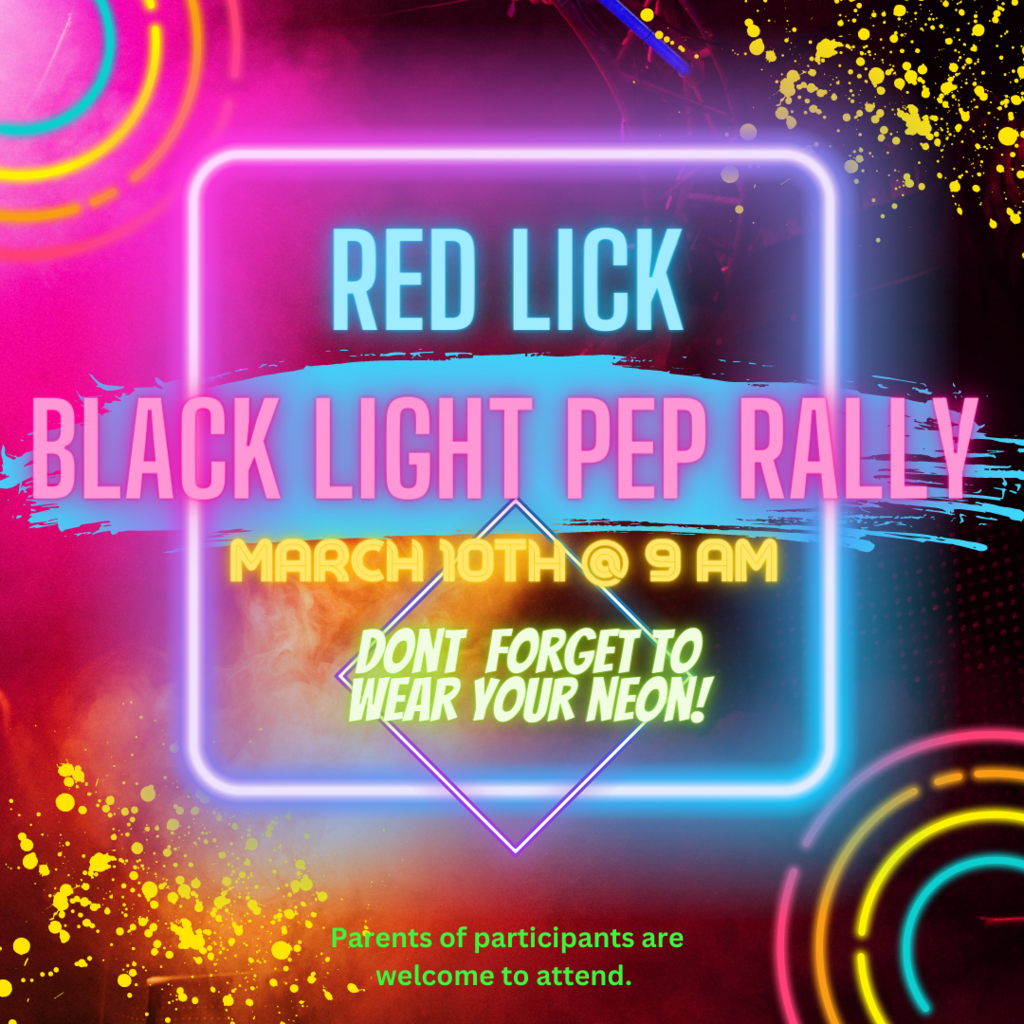 Due to the possibility of severe weather this afternoon and evening, we are postponing our Open House until next Thursday, 3/9/23. The same times will apply. We apologize for the inconvenience but we are taking precautions for everyone's safety. Stay safe tonight. #theHerd


Red Lick ISD will be hosting open house at each of our campuses on March 2nd. Please have a look at each flyer for times and events. #thHerd